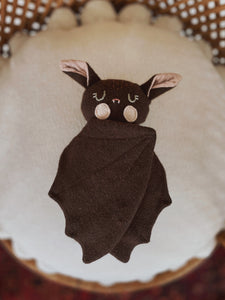 Brussel Sprout Babes
Baby Brown Bat Plushie
Regular price
$34.00
$0.00
Unit price
per
Can you imagine anything cuter than your own batty pal? These sweet baby brown bats are taking a break from their night in the sky to cuddle in your arms. 
Made of cotton, and super soft faux fur, they make the coziest friend. With hand-sewn details like their sleepy eyes, and quilted wings, each one is a unique little huggable piece of art. 
They are 100% hand made by me and because of that each one is wonderfully unique, and may have slight variations to the image represented.  

.

.

.


Meets CPSC safety requirements.

Safety is priority and as with any lovey or toy infants and young children should be supervised with loose blankets and plush objects at all times. Should the item incur any damage, do not allow the child to play with it any longer.

By purchasing this item from Brussel Sprout Babes you agree to the safety guidelines stated above, and acknowledge that Brussel Sprout Babes cannot be held liable or responsible for and loss, damage, or injury due to the use of the item.
Intended age for play is 3+
---